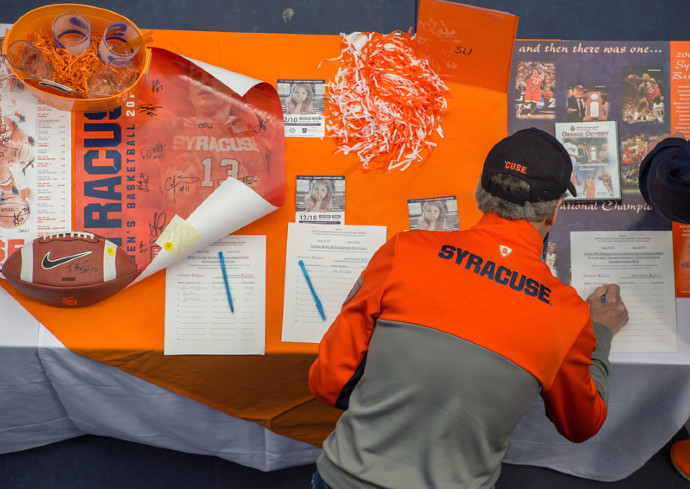 The 17th Annual Charity Sports Auction presented by the Sport Management Club will raise money this year for the charities of the Jim and Juli Boeheim Foundation. For the first time the club has created a hybrid auction that will begin on Nov. 20 at the Syracuse men's basketball game vs. Colgate, and then continue online through the day after Thanksgiving, which is the biggest consumer buying day of the year, at GiveSmart.com.
The Jim and Juli Boeheim Foundation "strives to enrich the lives of kids in need within our Central New York Community, as well as provide support for eliminating cancer through research and advocacy."
Juli Boeheim says, "We are thrilled to work together with the Sport Management Club and combine our efforts to enrich the lives of our Syracuse community. Jim and I are looking forward to seeing all the great work that the students put forth for the 17th Annual Sports Charity Auction."
Over the past 16 years, the Sport Management Club has raised more than $567,000 for central New York nonprofit organizations. Featured items this year include a Buffalo Bills helmet signed by Tre'Davious White, an Andrew McCutchen signed bat, limited edition watches from the 2021 March Madness tournament and the College Football National Championship, and many other items.
The auction will begin Nov. 20 in the backcourt of the newly renovated stadium as the Syracuse Orange take on Colgate. The thousands of fans on hand will be able to browse, bid and buy items at the stadium. The auction will then continue online through "Black Friday" and conclude on Saturday, Nov. 27.
Auction information will continue to be updated on Twitter (@SPM_Auction), Facebook, Instagram (@SPM_Auction) and on the sports auction website.