Bindi Irwin shared the "miracle" link between her wedding day and the birth of her daughter Grace Warrior in a sweet Instagram Publish.
The wildlife warrior, 24, told fans she recently discovered her and her husband. Chandler Powell, 25, officially got married exactly one year and three minutes before welcoming little Grace into the world.
"Grace Warrior was born at 5:52 pm on March 25, 2021. We just found out that Chandler and I took our vows and we officially got married exactly 3 minutes earlier on March 25, 2020", Bindi wrote in the message.
READ MORE: Black Friday sales you have to see to believe
READ MORE: Woman shares marriage 'rules' to make relationship work
"Three. Minutes. That's why I believe in miracles."
Bindi shared a cute black-and-white snapshot of her wedding to Chandler, which showed they officially tied the knot at 5:49 p.m. on March 25, 2020.
Steve Irwin's daughter married her husband Chandler in an intimate ceremony at the Australian Zoo without guests hours before the COVID-19 restrictions went into effect.
The couple welcomed baby Grace on their first wedding anniversary, her middle name "Warrior," a tribute to Bindi's father, Steve, and his legacy as a warrior of the wildlife.
READ MORE: Terri Irwin's heartbreaking confession on the 15th anniversary of Steve's death
Bindi and Chandler marked Grace's eight-month-old birthday with an adorable photo of the youngster posing in the mouth of a crocodile statue.
"One of the things she loves the most is our giant crocodile statue here at the Australia Zoo. She's growing so fast and her smile lights up the world. Grace Warrior, we love you beyond description." , wrote Bindi.
In a second photo, Grace was pictured wrapping her hand around one of the reptile's teeth.
"She's the cutest. Love you both," Chandler wrote in a comment.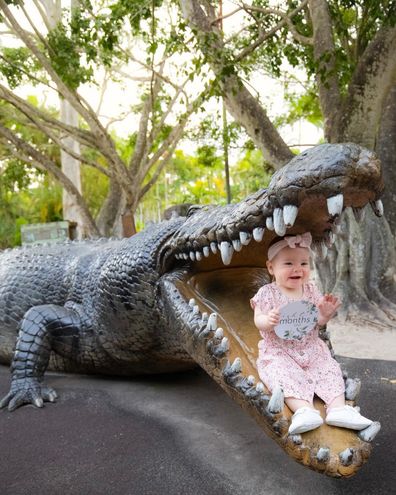 READ MORE: Robert Irwin shares special video of late father on Steve Irwin's day
In September, Bindi celebrated the 15th anniversary of her father's death and expressed that she wished "with all her heart" that her father "could kiss our beautiful daughter".
"This sweetheart watched her 'crocodile grandfather' on the projector at our camp here in Steve Irwin's Wildlife Sanctuary. She lights up when she sees him on screen," Bindi said.
"I wish with all my heart that dad could kiss my beautiful daughter. It has been 15 years since he passed away. I keep the idea that he is his guardian angel now, watching over the most special part of my life, Grace Warrior. "
For a daily dose of 9Honey, Subscribe to our newsletter here.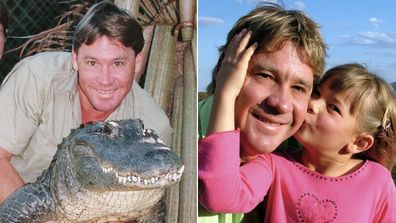 Steve Irwin: Life in Pictures from 1962 to 2006