LOUISVILLE, Ky. (WDRB) – The cheat code for Louisville's game at Duke on Thursday was M-A-L-I-K. At least, it seemed that way, watching Cardinals quarterback Malik Cunningham average a video-game-like 20.4 yards per carry in dominating the host Blue Devils, 62-22.
Cunningham ran for 224 yards, just a couple shy of Lamar Jackson's single-game rushing record for a Louisville quarterback, and he threw for 301 to become just the second FBS quarterback to throw for more than 300 and run for more than 200 in a game.
On top of it, he helped Louisville reach bowl eligibility after a trying season, that has taken an uptick over the past couple of games with the Cardinals earning blowout victories.
"Just really proud of our guys in a short week to be able to come out here and perform like they did," Louisville coach Scott Satterfield said. "You know what we talked about was take the momentum that we had from the Syracuse game and let's carry it forward. And they were able to do that this week. Obviously a short week, not much prep time. And what you end up doing is scaling the game plan back. But the guys went on executed. Really nice game plan. And particularly offensively, what Malik was able to do tonight was incredible."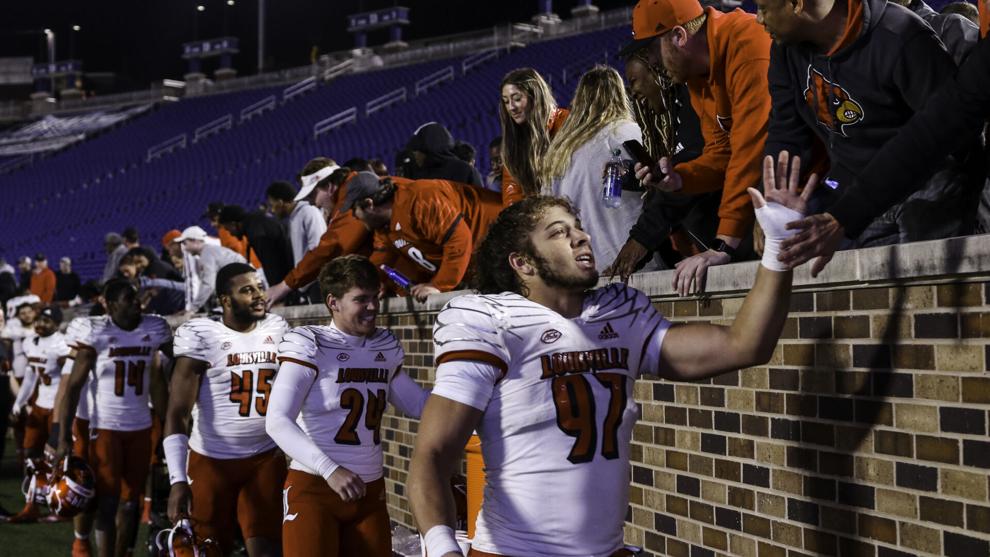 Cunningham was one of a half-dozen or so Louisville players who tested positive for the flu. They traveled to Durham separate from the rest of the team. But if Cunningham was feeling many ill effects, it didn't show on the field, where he carved up Duke and put together one of the great offensive performances in program history.
The 11.1 yards per play Louisville gained against a hapless Duke team was the most in program history. His 224 yards came on just 11 carries. He scored on touchdown runs of 72 and 44 yards, and threw for 5 touchdowns.
"I was feeling pretty bad throughout the week," Cunningham said. "And then today I felt a little bit better. . . . I've got to give my credit to the O-linemen and the receivers and the backs because without those guys none of this is possible, and thank the man above for putting me on Earth to do things like this."
Satterfield Duke was trying to pressure Cunningham and bringing large numbers of defenders to try to bottle him up.
There was just one problem – Duke couldn't tackle him. On both his large touchdown runs, he broke tackles near the line of scrimmage and once into the next level, Duke couldn't catch him. He wasn't at full speed, but that didn't matter.
"We blitzed him," Duke coach David Cutcliffe said. "He escaped the blitz."
"Everything was moving so slow today for some reason," Cunningham said. "It felt good. I enjoyed it."
So did Satterfield.
"What Malik was able to do offensively, I don't know if I've ever been part of an offensive performance like this," Satterfield said. "Particularly not an offensive performance like what Malik did. Rushing for over 200 and throwing for over 300. How many touchdowns? Seven? Incredible performance."
Tight end Marshon Ford said Cunningham, "put others before himself. You knew he was out there hurting, but he's always positive, he's a great leader. He says 'get on my back.' He takes us."
The game was never in doubt. Louisville opened up a quick 14-3 lead and cruised to a 35-9 halftime lead.
In the fourth quarter, with reserves in the game, Louisville players on the sidelines chanted "bowl, bowl, bowl."
It's a welcome development for a program that struggled through some excruciatingly close losses – a late field goal at Wake Forest, another against Virginia, coming up 2 yards short of a winning score, with four tries to punch it in, against Clemson.
The locker room after the game was raucous, with more "bowl" chants, and several mention of "that team down the road." Louisville will face Kentucky a week from Saturday in Cardinal Stadium.
"We needed a win like the Syracuse win," Satterfield said. "And now, to come out and do it back-to-back. That's scary for some opponents out there. Because our guys get confidence. They feel like they can go out there and make those plays."
The resilience showed by Cunningham typified what Louisville has showed all season. Though they came up short several times, the team always showed up, and did not seem to get discouraged despite the disappointments.
"So what, now what? That's our mentality," Ford said. "Things didn't go our way early in the year, but there's nothing we can do about that. We just have to go on. … Those one-play-away losses really, really hurt. But the only thing you can do is learn from it and move on."
The Cardinals did, and now they're smiling.
Satterfield, soaked from a Gatorade bath, was a bit under the weather himself, but he didn't mind.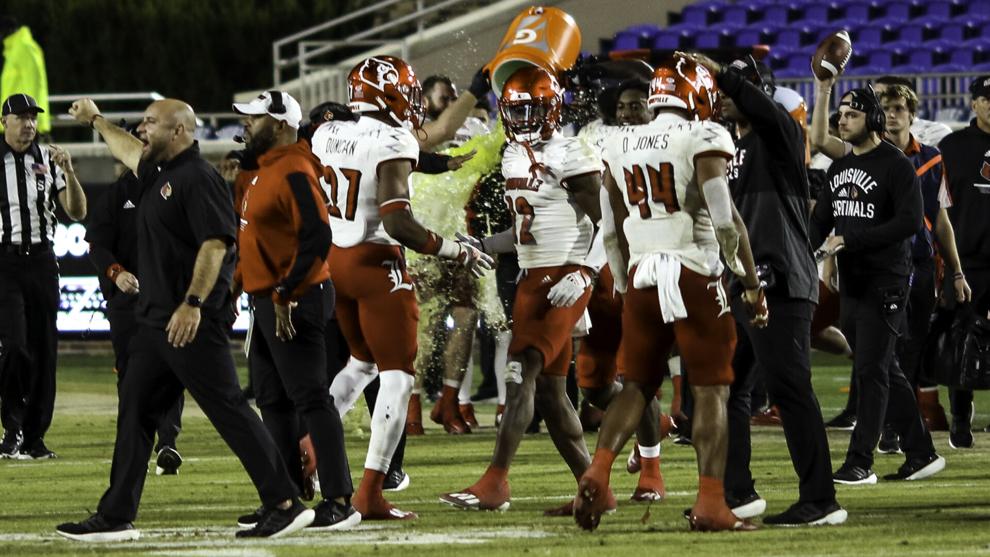 "Anytime you get doused with Gatorade, that means something good happened, so I'm all about it," he said. "I wish it was water and not Gatorade, because it's sticky and got in my ear a little bit and it's cold. But I'm so proud of our guys and what they've been able to accomplish. We were so close in some of those games. Some teams might've folded when things were going so close but you didn't come through. These guys have continued to rally every week. And these last two games, man, we've played really good. We just need to ride this momentum into next week."
Copyright 2021 WDRB Media. All Rights Reserved.