Fact or Fiction: Nebraska turning corner under Frost
In today's Fact or Fiction, Rivals national columnist Mike Farrell looks at three big recent topics in college football and decide whether the statement is indeed FACT or if it's FICTION.
*****
CLASS OF 2022 RANKINGS: Rivals250 | Position | Team | State
CLASS OF 2023 RANKINGS: Rivals250 | Position | Team | State
RIVALS TRANSFER TRACKER: Stories/coverage | Message board
RIVALS CAMP SERIES: Info/coverage on 2021 camp series
*****
1. Nebraska has turned a corner under Scott Frost.
Farrell's take: FICTION. Nebraska is getting better; let's not make light of the progress made in Lincoln recently under Frost. All four losses this season were decided in the final minute of regulation or overtime, including three losses to current top 10 teams. The defense has been much improved and the offense is starting to come around a bit. The Huskers are a few plays away from a better record than 3-4.
However, two more top 10 teams – No. 6 Ohio State and No. 2 Iowa – still loom on the schedule. Plus, the Huskers must play Wisconsin on the road. That's a tough three-game stretch to finish the season.
Wins over Minnesota and Purdue are critical heading into those last three games, and a loss to either would be a disaster. I'm not ready to say a corner has been turned in Lincoln just yet. The Huskers need to prove they can win some of these close games first.
SHARE YOUR THOUGHTS WITH NEBRASKA FANS AT HUSKERONLINE.COM
*****
2. Miami is the biggest disappointment in the ACC this season.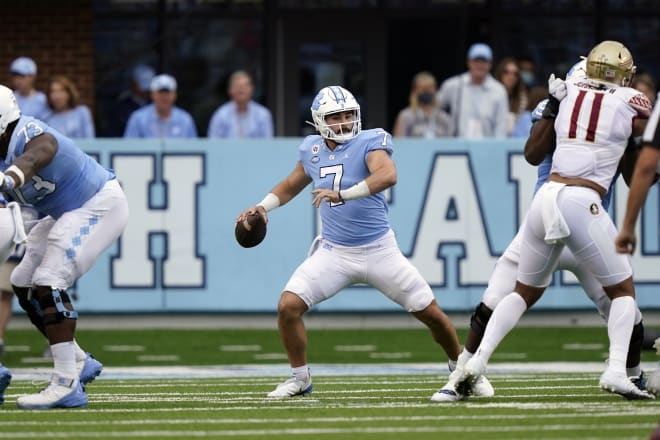 Farrell's take: FICTION. That title belongs to North Carolina. Remember at the beginning of the season we thought the Tar Heels would push Clemson a bit for the ACC title? Well now that Clemson has disappointed I'm even more disappointed in North Carolina for not stepping up.
I can accept a down year from Clemson after such a great run and Miami has been a massive disappointment after some crazy people (not me) thought it would give Alabama a run at the start of the season. But to see UNC at 3-3 overall with losses to Virginia Tech, Georgia Tech and Florida State is downright stunning. And disappointing.
SHARE YOUR THOUGHTS WITH UNC FANS AT TARHEELILLUSTRATED.COM
*****
3. Indiana pulls a huge upset over the next few weeks.
Farrell's take: FICTION. I want to say yes because this was an Indiana team I believed in at the start of the season, but how can I justify them beating Michigan State, Ohio State or Michigan down the stretch?
Michael Penix Jr. and the offense have been bad. The defense is solid at times but is on the field too much. There's just no way to see the Hoosiers winning one of those games.
SHARE YOUR THOUGHTS WITH INDIANA FANS AT THEHOOSIER.COM