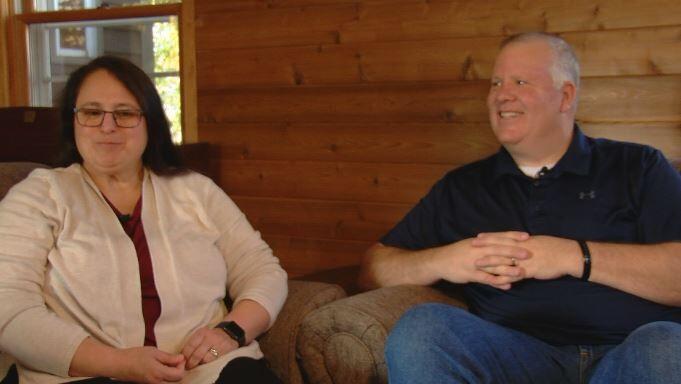 MADISON (WKOW) — They're the kind of people who have no trouble opening their doors to others.
"Someone who comes to a person's house to just rent one room is a different kind of person that I want to talk with," Airbnb host Mike Contreras said. "I want to spend time with people like that."
Mike and Denise Contreras are what you could call bonified Airbnb gurus.
"Because some of our rooms rent literally nightly, there has to be a change," Airbnb host Denise Contreras said. "So we get up in the morning, I go to work, and Mike stays home and does all the change-overs."
But the road to rental rapture wasn't an easy one. Before the COVID-19 pandemic, Mike was a receptionist at U-W Health. Until…
"The nurses were getting repositioned; they weren't having appointments; they didn't need an extra person. So I was out," Mike said. 
And it's obvious healthcare runs through this couple's blood.
"I needed to be in clinic and needed to be able to help," Denise said.
Denise is a nurse at the VA.
"I mean, I was at a point where I'd get up at 4am, I would be at the hospital by six done at 2:30," Denise said. "My clinic was at 3 p.m. and I'd be home by 10:30, go to bed, get up, and it was just like 'time to make the donuts'". 
So as the pandemic wore on, the couple turned to technology and got resourceful.
"Love the app, to be able to just go click, click, click," Mike said. 
Not only did Airbnb help make up for one lost income, but it put a roof over the heads of those fighting a deadly virus.
"Our first guests were long-term nurses," Denise said. 
This multi-room home on Madison's north side turned into an Airbnb haven for out-of-town healthcare workers when COVID was at its worst.
"We started seeing the need for travel nurses," Denise said. "And it made it so much easier to say, 'I'm a nurse, you're a nurse, would you like to live here?' So it's worked out great."
Mike and Denise's venture also helped grow their pandemic social bubble.
"Denise was working double shifts," Mike said. "She'd work her full-time job and work another probably 30-40 hours at the additional job because they were so needed. And here, I was stuck by myself at home all the time."
But now that their home is basically a mini-hotel, socializing safely became a possibility.
"This gave me a task to do and that's what I needed," Mike said.
"Even though I went out to work, literally to work, work work. I knew that I'd come home and have an amazing conversation with somebody that was just here," Denise said. 
So let's talk money. That's the whole point of the app, right?
"My goal for last year was to make $100,000 so that Denise wouldn't have to work her second job," Mike said. "Now, I didn't do that and we spent a lot more. But with what I did make or have made, and with Airbnb, she feels confident not to have to work."
Music to a nurse's ears, who's been putting others first for most of her working career.
"I was able to leave my second job. I've always worked two jobs for the last 12 years," Denise said. 
So whether it's putting a roof over the heads of essential workers during a global pandemic…
"It made it possible for us to do something for other people," Denise said.
Or making enough money to say goodbye to a second job, you can bet your bottom dollar the saying 'what goes around comes around' especially holds true for these housing heroes.