The Mind of Mike is a scary place. Here are my thoughts on the second college football playoff rankings for the 2021 season.
*****
MORE FARRELL: Three-Point Stance | Thoughts on latest coaching news
CLASS OF 2022 RANKINGS: Rivals250 | Position | Team | State
CLASS OF 2023 RANKINGS: Rivals250 | Position | Team | State
RIVALS TRANSFER TRACKER: Stories/coverage | Message board
RIVALS CAMP SERIES: Info/coverage on 2021 camp series
*****
We all knew Georgia would remain No. 1, but what about Alabama? The Crimson Tide didn't look impressive eking out a win over a depleted LSU team at home despite being more than four-touchdown favorites. But Oregon and Ohio State also struggled with inferior opponents, while Michigan State lost and Cincinnati once again looked awful in a win. So what do you do? I guess you keep Alabama No. 2, as the committee did, simply because no one else looked good. But let's be clear: Alabama stays at No. 2 because those behind them didn't impress.
SHARE YOUR THOUGHTS WITH ALABAMA FANS AT BAMAINSIDER.COM
*****
It's no surprise to see Oregon and Ohio State to slide up a spot as Michigan State slid following the loss to Purdue.
*****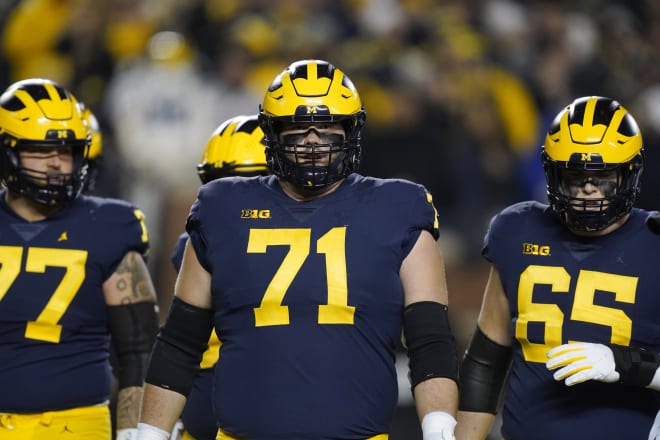 The biggest news? How on earth is Michigan rated ahead of Michigan State at No. 6 when the Wolverines just lost to the Spartans a couple of weeks ago? Yes, the loss to Purdue wasn't a good one, but when you have Oregon ahead of Ohio State because of head-to-head play, then how does this happen? This simply doesn't make sense to me. Of course, it doesn't really matter this early, but it certainly seems a bit ridiculous.
SHARE YOUR THOUGHTS WITH MICHIGAN FANS AT THEWOLVERINE.COM
*****
Can we make a case for Texas A&M to be ranked higher than No. 11? Yes, the Aggies have losses to Arkansas and Mississippi State, but they also have wins over Alabama and Auburn. If 'Bama is going to be ranked so highly and regarded with such prestige, then the Aggies' win over the Tide should be accorded the same respect. No. 11 seems a little low.
SHARE YOUR THOUGHTS WITH TEXAS A&M FANS AT AGGIEYELL.COM
*****
Oklahoma State could also make a case to be ranked higher with only one loss to an Iowa State team that is playing a bit better. The Cowboys are winning with defense, and you wonder if they would be higher if this was a typical Oklahoma State offense.
SHARE YOUR THOUGHTS WITH OKLAHOMA STATE FANS AT OSTATEILLUSTRATED.COM
*****
The Big Ten gets a ton of respect overall with Wisconsin, Iowa and Purdue near the bottom of the Top 25, and it's good to see UTSA finally ranked as an undefeated team. But the bottom doesn't really matter here.