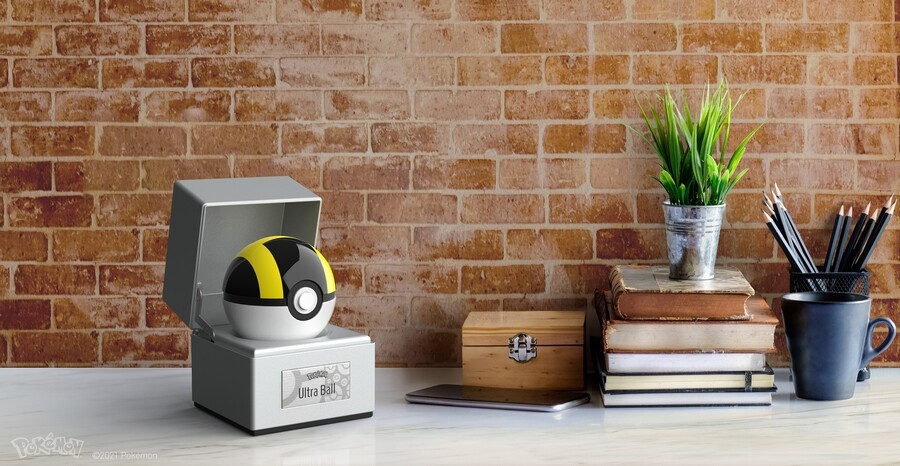 This "Premium" Pokémon Ultra Ball Replica Looks Ultra Fancy
Last year, The Wand Company launched a line of die-cast Poké Ball replicas with the iconic Standard Poké Ball itself, and later the Great Ball, in collaboration with The Pokémon Company. This line of ball designs continues with the Ultra Ball, the third in the series, celebrating Pokémon's 25th anniversary.
The Ultra Ball, like its other Ball companions, will cost £ 99.99 / $ 99.99 – which can seem overwhelmingly expensive for a ball that doesn't actually work (and don't try to capture your pets), but that's less than the 800-1,200 Poké Dollars it costs in-game, at least.

The Die-Cast Poké Ball Replica series is available at many retailers, but Zavvi has a free t-shirt with pre-orders, which looks like this:

Here is the description of The Wand Company:
The Wand Company line of die-cast Poké Ball replicas is the first officially licensed premium collectible replica for Pokémon fans.

This premium and highly accurate Ultra Ball replica is crafted with an engineered metal shell, has a deeply colored surface that is sensitive to touch and proximity, and features an illuminated button and illuminated presentation case . This Ultra Ball promises to be a nice addition to any Pokémon collection!

Perfect for collectors, the replica comes with a presentation case – authenticated by a unique numbered hologram – and a polished stainless steel ring, so you can display your Ultra Ball however you want.

Enjoy multicolored lights that shine under the Ultra Ball when you open the case; check them by touching the metal plate of the housing.
Would you like to drop a hundred pounds on this very shiny collector's item? Let us know in the comments!